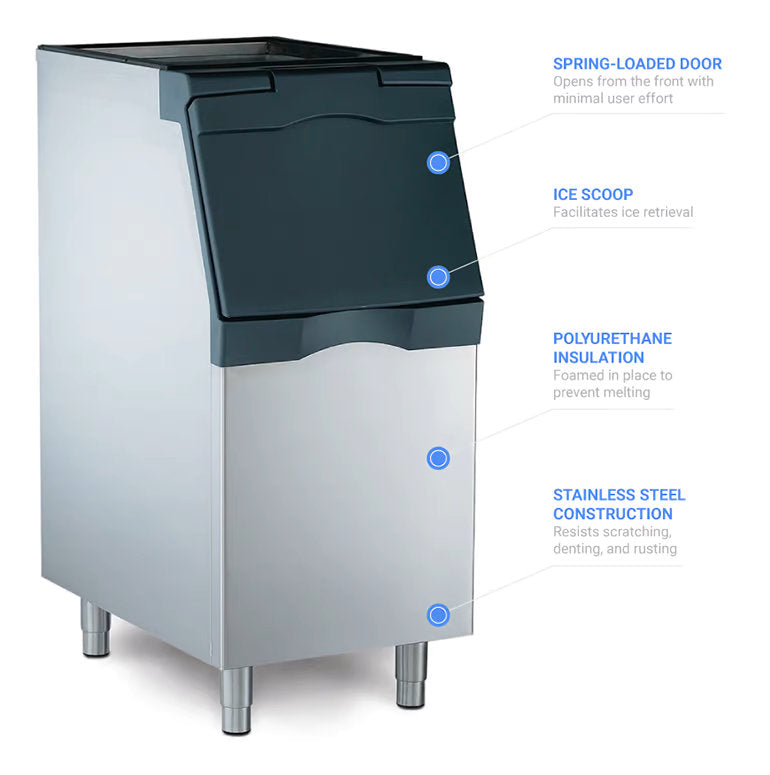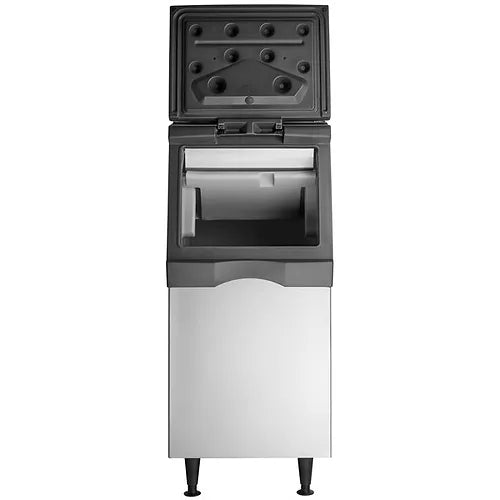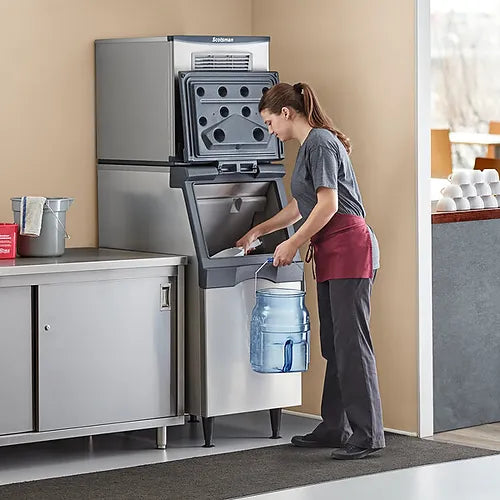 Scotsman
Scotsman B322S 22" Ice Storage Bin 370 lbs
A perfect match to the 22" Prodigy cube ice machines and other Scotsman 22" ice machines (both sold separately), this bin is designed to fit perfectly on top. With the help of this bin, you can make sure there is always ice on hand to meet the needs that arise in your establishment.
The Scotsman B322S ice storage bin pairs with Prodigy Plus® ice machines and other units from Scotsman. The stainless steel construction makes the unit durable and resistant to scratches and corrosion. Cleaning the interior is easy since it is made from polyethylene; it is also sanitary and scratch resistant. Cold air is retained in the bin with foamed-in-place polyurethane insulation. The spring-loaded door is easy to open and close with the hidden hinges.
On the back it has a rear-located, recessed drain that makes this a breeze to install or clean. The bin's baffle easily removes for cleaning so you can maintain a hygenic set up over time.  An ice scoop is included, along with a built-in holder to help keep ice sanitary.
Product Details
Holds up to 370 lbs. of ice
Cold air is retained and the melting of ice is slowed with foamed-in-place polyurethane insulation
Easy-to-clean, sanitary, and scratch-resistant polyethylene interior
Stainless steel construction is durable and resistant to minor damages
Spring-loaded door is easy to open and close with hidden hinges
Pairs with Prodigy Plus ice machines and other units from Scotsman
Ice scoop included
Built-in ice scoop holder keeps ice sanitary
Baffle easily removes for cleaning
Installation is flexible with the recessed drain fitting
Overall dimensions:
22 in. W x 32.75 in. D x 50 in. H